Free Genealogy Forms
The genealogy forms, charts, and worksheets referenced briefly on this page are discussed in greater detail within the pages of Google Your Family Tree. You may find it helpful to save and print copies of these documents as you learn more about genealogy and the different ways to use Google to conduct more effective research. While the text of the book and this website are protected by copyright, you are permitted to print and share copies of these genealogy forms and charts for any personal or non-commercial use.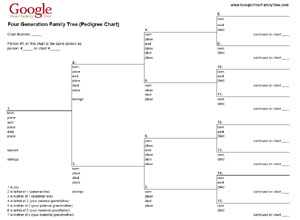 Genealogy Forms — Pedigree Chart
Whether you are just getting started with your family tree or have finally decided to organize some of the information you have been collecting about your family informally over the years, this genealogy form will serve as a great starting point.

This genealogy form is most properly called a Pedigree Chart and is a summary of the most basic information for direct line ancestors. By 'direct line', I mean it will list information about you, your parents, grandparents, and great grandparents, but not your siblings, aunts or uncles. Once complete, it will include names, dates, and places for four generations of your family at a glance.

This genealogy form is discussed in Appendix A — Getting Started in Family History (see pages 267 to 271).




Download Free Pedigree Chart