Return to Tips Blog Home Page
Searching for George Herman Ruth
Original Posting: 26 October 2008 Last Edit: 26 October 2008
I recently presented at the Bridgeport Public Library (Bridgeport CT) and one of the attendees (who later admitted he wasn't a genealogist, but had acompanied his brother to the presentation) asked a great question that enabled me to more fully explain an advanced Google Web search. So, for the benefit of all readers, here we go . . . . the question - "If I'm doing research on Babe Ruth, how can I be sure to also get pages that might mention his real name - George Herman Ruth?" Little did this attendee realize how great his question was, because it helps me illustrate several aspects of Google that are perfect for genealogists.
The most basic search here would be: babe ruth
In this case, Google will return pages with the character strings babe and also ruth somewhere on the same page, but not necessarily in proximity to one another. Oddly, this is one of the few examples I have seen where adding quotations to filter results will actually increase the number of results found. Submitting "babe ruth" yields 4,120,000 results.

The following searches generate the following results:

> "george ruth" returned 17,500 results
> "george herman ruth" returned 31,000 results
> "george * ruth" returned 1,880,000 results
> "george ruth" OR "ruth, george" OR "george * ruth" returned 22,200,000 results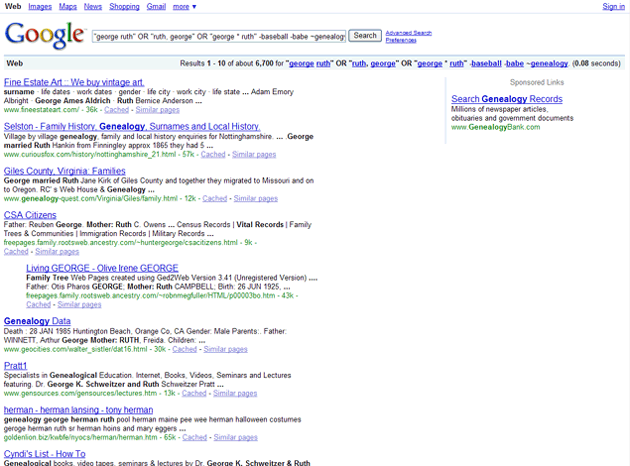 Now - most of our ancestors won't have nearly as many relevant pages published about their life as "the babe", but these examples show the importance of using given names, nick names, and also wild cards in place of a middle name to find all possible pages. If you are in the unenviable position of searching for an ancestor who shares a name with this baseball legend, there are still things you can do. Let's say your ancestor is named George Ruth. You can conduct this query:
"george ruth" OR "ruth, george" OR "george * ruth" -baseball -babe ~genealogy
By including the three main variants for how a name might likely appear and also removing pages with the terms baseball and babe (using the negative search syntax), then adding words similar to genealogy . . . you are far more likely to find relevant results. In this case, 13,700 pages.

Of course, even though I'd recommend learning the command syntax for such searches, you could also use the Genealogy PowerSearch #1 on this website to find the same results. Keep these great questions coming.