Return to Tips Blog Home Page
Searching Well Outside the BOX
Original Posting: 15 November 2008 Last Edit: 15 November 2008
Earlier today, I did a presentation to a great group in Bethpage, New York. For starters - when it's cold and rainy and the room is STILL PACKED with attendees, that's when I know they really enjoy genealogy. The group was the Irish Family History Forum and, so, my many examples of "Patrick Lynch" and "Eugene Lynch" made everyone feel right at home. BUT . . . I did encourage everyone to let me know if they had any particularly difficult SURNAME challenges and, sure enough, someone approached me with a very good one.

What is a person to do when the surname you are searching is BOX? Hmmm . . . . I had to think about this one a bit and then continued to think about it the entire way home. If you do a search on Google for BOX, certainly there are many results (currently 1.15 Billion) dominated by listings for storage and packing supplies. So, let's build a list so you can see how to refine your filtering for such a difficult genealogy challenge:

box                                   (Too many results, few with any relevance) 
box ~genealogy                        (Filtered out many, but still 13+ million) 
box "new york" 1860..1910 ~genealogy  (Just 43,000 results - getting closer) 


Now, in the example above, I am guessing that the location was "New York" - but this is simply a reminder to answer the WWW question (no, not World Wide Web . . . but Who?, Where?, and When?)

By using the SURNAME (box) and then PLACE NAME ("new york") and then the numrange command for WHEN (seeking pages referencing the range from 1860 to 1910, inclusive), that will yield quite an interesting group of relevant pages. By using the similar words command for genealogy (~genealogy), something you are advised to do with frequency, many of the pages will likely contain exactly the type of information you are looking for. Your trick now is to use GIVEN NAMES and other keywords to further refine results.

SO - to my friend from Long Island, if you're reading, thanks for sharing. This was indeed a GREAT example. And, of course, you could have also used the minus sign to REMOVE unwanted pages, but after trying that technique, it didn't seem as effective as I would have thought because there were SO MANY different things we would have had to remove.

Calendar of Upcoming Events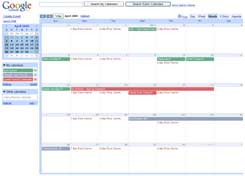 Become a Facebook Fan of
Google Your Family Tree!
Free Genealogy Forms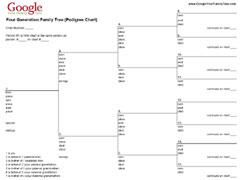 . . . . . . . .
View Video in Larger Screen Width