Return to Tips Blog Home Page
New Google SearchWiki Provides Custom Results
Original Posting: 20 November 2008 Last Edit: 18 January 2009
I think my Second Edition of Google Your Family Tree will have to be at least 700 pages because every time I do a search, I notice yet another new feature of Google that genealogists will love (including me)! There are plenty of reasons that you may have chosen up to this point to have a Google Account, but if you haven't then this may finally be the feature that puts you over the edge. The new SearchWiki announced and launched today by Google is a clever way to provide each user with customized search results. As genealogists, we often conduct similar searches based on the surname or place name we are researching. Even with careful filtering, there are probably sites that you see in your search results often, but know from past experience they are not of interest for one reason or another. Well — now you can do something about it once and for all!

Before I explain how and why I think this is great for family history enthusiasts, you can watch this brief video (below) from one of Google's engineers explaining this new feature.

Example Screen Below (Click on image to see a larger version in a new window)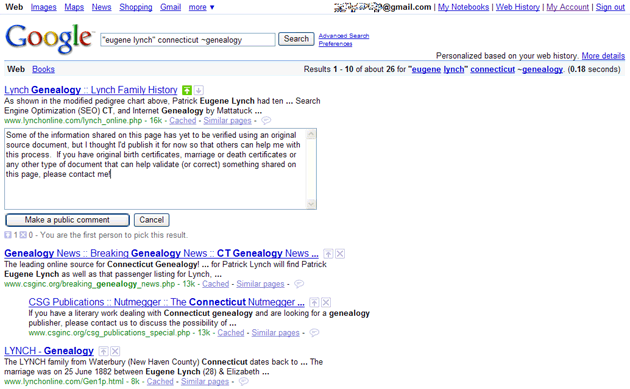 SearchWiki Uses Your Free Google Account
The SearchWiki feature is only visible if you have and are signed in to your free Google Account. You have a Google Account if you have Gmail, use the Google Calendar, Notebooks, iGoogle, AdWords, AdSense or other of Google's customizeable and personalized products. If at any time you wish to see results as they are displayed to the general public, you can simply sign out of your Google Account.



The first of the three icons you will notice on the search results page is an up arrow located just to the right of each blue text line displaying the page title for your corresponding result. When you click on this icon, it will turn green and will also elevate this result to the top of your results.



Located just to the right of the Up Arrow described above is an X inside a box. Click this icon when you know from evaluation or prior experience that this particular listing is not of interest when Google presents results in response to your query. This can save you time when evaluating future queries for similar surnames or place names.



The text bubble appears on the last line of each search result summary, just to the right of the 'Cached' and 'Similar pages' text links. You can use this icon if you wish to make a public comment about this particular web page or other pages from the site where this page is found. Each Google Account allows you to specify a 'Nickname' which will appear with your public comments.
Close-up of Google Web Result with SearchWiki Icons Visible


» View more detail about Google Accounts at Google.com
» Create a Google Account of your own!

Calendar of Upcoming Events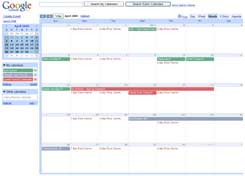 Become a Facebook Fan of
Google Your Family Tree!
Free Genealogy Forms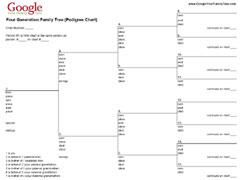 . . . . . . . .
View Video in Larger Screen Width